Website Access
By entering this Website, as well as by using your account on the Website, you undertake the obligation to observe the Terms. Materials are provided to registered users only.
You agree to provide information about yourself that is true, accurate, up to date, and complete throughout the whole period of Website use. As a user account owner, it is your responsibility to obtain and maintain all equipment, services, and software needed to access and use the Website, as well as to pay for related costs. You are also responsible for password confidentiality. If you believe that your password or other confidential information related to the Website has been compromised, you are obliged to inform us of it immediately.
We will occasionally record personal data about you. This is done with the sole purpose of granting you access to the Website and enabling you to use it. FTL's use of the data it gathers is governed by the provisions of FTL's Internet Confidentiality Statement.
We reserve the right to request a change of your password or limit your Website access if we believe this is justified.
Permitted Use Сайта
You can use the Website for personal and business purposes if you are a consumer of FTL products and services (hereinafter "Permitted Use").
We hereby provide you with a limited, personal, non-exclusive, and non-transferable license to use and view the Materials within the scope of Permitted Use. Your right to use the Materials depends on your compliance with these Terms.
You have no other rights regarding the Website and Materials. It is forbidden to change, edit, copy, or replicate any part of the Website or Materials, create derivative works from them, apply reverse engineering, modify or extend them, or use them inappropriately.
If you copy any part of the Website within the scope of Permitted Use, these copies must contain the copyright notice and other proof of FTL ownership as it is presented on the Website.
Unauthorized Website Use and Acceptable Use Policy
We authorize you to use the Website within the scope of Permitted Use. Any use outside the scope of Permitted Use is not allowed, and therefore unauthorized. This is due to the fact that all rights to the Website and Materials still belong to FTL, its subsidiaries, or branches.
Unauthorized use of the Website and Materials may result in a violation of Ukrainian and international copyright laws. Examples of prohibited actions are given in the FTL Acceptable Use Policy. You are obliged to follow the guidelines in the FTL Acceptable Use Policy when using the Website and the services it offers.
Discontinuation of Website Use
We reserve the right to deny you access to the Website at any time. You may also stop using it at any time. If you violate any of these Terms, our system will automatically block your access to the Website. In particular:
Unless otherwise agreed with you in writing, we reserve the right to cancel or suspend your Website registration, change its conditions, deny your access to all or part of the Website without prior notification, at any time and for any reason.
You may stop using the Website at any time.
If our system automatically blocks your access to the Website for reasons of Terms violation, you are obliged to destroy all downloaded or printed materials and their copies immediately.
Disclaimer
The Website is presented as is, and may contain bugs.
FTL does not give any direct, indirect, or legislatively presupposed guarantees regarding the Website, including its suitability for commerce or for another purpose or purposes, observance of ownership rights, and copyright non-infringement.
This means FTL makes no guarantee that the Website will function flawlessly. Without limiting the foregoing, FTL does not guarantee that the Website will meet your requirements, and makes no warranties concerning the smooth operation, speed, safety, and infallibility of its content, or concerning error control. FTL issues no guarantees concerning results obtained through using this Website, or the accuracy and reliability of the information it presents.
No oral or written recommendations, or information given on the Website or through FTL, its branches and subsidiaries, their suppliers or respective officials, managers, and employees (jointly referred to as "FTL Parties") give rise to any guarantees. FTL does not guarantee equitable compensation.
Exemption Clauses
FTL Parties are by no means responsible for (A) indirect, actual, consequential, punitive, and exemplary damages, or (B) losses exceeding USD 100 (one hundred) (including damages from loss of revenue, loss of bargaining power, loss of reputation, loss of usability, suspension of a business, or any other non-financial losses) which arise from the use of or inability to use the Website, or in connection with it, regardless of whether such losses were sustained due to a guarantee, contract, tort, legislative act or other forms of legislation, even if any of the FTL Parties was informed of (or could reasonably be expected to have known) about the possibilities of such losses.
Exemptions and Restrictions
Some jurisdictions do not permit exemption from certain guarantees or limitation of liability for certain losses. As a result, some of the above exemption and disclaimer clauses may not apply in your jurisdiction. In the event that the FTL Parties are not entitled to deny indirect guarantees or limit their liability, the scope and period of such guarantees and the responsibility of FTL Parties shall equal the minimum determined by the law.
Changes to the FTL Website
FTL reserves the right to make changes to the Website, as well as to suspend or terminate its functioning at any time without prior notification. In particular:
FTL reserves the right to make changes to the Website and Materials, as well as products and prices indicated on it at any time without prior notification.
If the Website becomes outdated, FTL does not undertake the responsibility to update it.
Information on the Website may pertain to products and services unavailable in your country.
We recommend that you consult your local FTL representative to learn about the products and services you may obtain through the Website.
Your Data
In some Website sections (like chat, reviews, feedback, communities, and forums) you can leave comments, information, data, text, music, sounds, pictures, images, video, messages, and other materials (each separate type is called "Data"). You agree that you are solely responsible for all Data you provide and that these Data are not considered confidential or private property. Moreover, FTL does not guarantee you the right to demand from FTL or any other third party to edit or delete any of your Data.
By providing any Data, you guarantee that:
you are aged 18 or above;
you have all rights to the Data you provide (including all rights to the text, code, audio, video, and digital records contained in this Data, as well as their reproduction), or you have acquired all necessary rights to the Data and give FTL the right to use it as described in these Terms;
you are the person whose image and/or voice are in the Data provided by you, or (if the Data concerns a third party) you have the permission of the relevant third party (including the permission of parents or caregivers of persons under 18 (eighteen) to share such Data, and you can provide FTL with rights to them as described in these Terms;
the Data you provide does not violate copyright and patent rights, trademarks, proprietary information or other intellectual property rights, rights to privacy, rules of social media websites or any other legal entities, and the non-proprietary rights of a third party;
you agree to waive all personal non-proprietary rights to the Data you provide;
to the best of your knowledge, the Data you provide is true, accurate, and reliable;
the Data you provide is not in violation of any laws (including laws governing export control, consumer rights protection, unfair competition, and measures to fight discrimination and deceptive advertising);
the Data you provide is not and cannot be justifiably considered as discrediting, slanderous, promoting hatred, discriminating (racially, ethnically, religiously or otherwise), offensive, vulgar, pornographic, indecent, violating privacy or containing an illegal threat, or bullying of any person, group of persons, or an enterprise;
you have not received and will not receive any compensation or remuneration from third persons for this Data;
the Data you provide does not contain information from third-party sites, including postal and email addresses, contact information, or phone numbers of third persons (such information may be provided only about oneself);
the Data you provide contains no viruses, worms, spyware, adware, or other potentially harmful programs or files;
the Data you provide contains no information you believe to be confidential, personal, or protected by copyright;
the Data you provide does not contain any unauthorized advertisements or materials, undesirable messages, spam, chain letters, details of pyramid schemes, or hard selling in any other form.
By providing Data, you grant FTL irrevocable, perpetual, transferable, non-exclusive, fully paid, global, and free permission sublicensable at different levels to do the following:
use, distribute, reproduce, change, adapt, publish, translate, or publicize the Data you provided (or any modification thereof) fully or partially, in any form, by any means, both existing and future;
use the Data you provide (and give permission to use) in any way and for any purpose (including commercial purposes) at its own discretion, and particularly but not exclusively to include the Data fully or partially or in any modified form in any technology, product, or service;
show advertising connected with the Data you provide, as well as use it for promotion.
FTL may pre-moderate the Data you provide and control sections of this Website where such Data may be provided, but is not obliged to do so. Specifically, FTL has no obligation to publish, show, or distribute any Data you provide on the Website and can remove or reject such Data at any moment and for any reason. FTL Company disclaims all liability for loss, theft, or damage of the Data you provide. In addition, you grant FTL the right to freely disclose the Data you provide to third persons, without requesting a non-disclosure obligation from such third persons.
Intellectual Property Rights
FTL Company respects the intellectual property rights of others and asks you to do the same. We reserve the right to stop servicing and/or block Website access for users who violate the intellectual property rights of other persons at our reasonable discretion.
If you believe that your work was posted on our Website in violation of your copyright and/or trademark, we ask you to inform us about it following the procedure described in our resource which covers complaints regarding a violation of rights on FTL websites.
FTL Trademarks
The logo used by FTL Company (hereinafter the "FTL Logo") is a registered trademark belonging to FTL Company and/or its branches.
FTL Logo: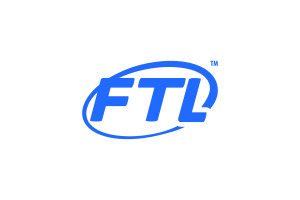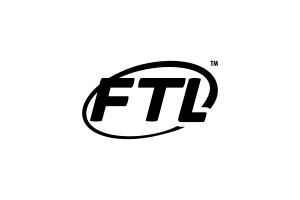 FTL text trademarks may be used for correct and precise references to FTL Company and its products and services in accordance with the following rules.
The FTL Logo may only be used by FTL Company and by partners who have concluded a written agreement with FTL Company which grants them special permission to use the logo. Any other use of the FTL Logo and stylized symbols is prohibited.
It is prohibited to use FTL trademarks in any way if doing so could mislead clients concerning your relations with FTL Company or the origin of any products and services, or present FTL Company as your sponsor or quality guarantor. Any use of the FTL trademark that could mislead is considered illegal and is prohibited.
Trademark Use by FTL Authorized Partners
If you have business relations with FTL, you are obliged to follow the rules and provisions on trademark use stipulated in your written agreement.
If your current agreement with FTL allows you to use FTL trademarks but does not stipulate the rules of doing so, you are bound by the instructions in these Terms.
Should any questions arise, we ask you to contact your consultant or other FTL representative.
General Instructions Regarding FTL Trademark Use
The following rules apply to companies that have permission to use FTL trademarks, particularly FTL contractual partners.
Following its trademarks, FTL Company uses but does not require others to use trademark symbols, explanations, or acknowledgment, unless usage is stipulated in the contractual agreement.
FTL trademarks shall be used after nouns to which they refer, for example, FTL support services, etc.
FTL trademarks must be used in their original form. No variants are permitted.
It is forbidden to use FTL trademarks in any way that could mislead clients regarding the origin of goods or services, or represent FTL as a sponsor or quality guarantor.
It is forbidden to use FTL trademarks to make false statements about FTL Company, its products, and services.
It is forbidden to use or integrate FTL trademarks in other trademarks, company names, products and services, usernames on social media, or domain names.
It is forbidden to imitate FTL's corporate product design, design and style of packaging, advertising materials, slogans, mottos, or website configurations and logos, and to use these as a basis for other work.
When mentioning FTL in official documents (for example annual and fiscal reports), it is recommended that you include the full name of the legal entity, i.e. FTL Company Ltd.
Additional Rules for FTL Logo Use by Authorized Users
Main FTL Logo: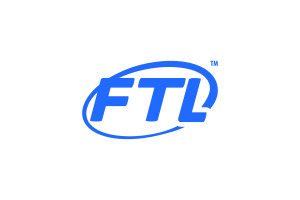 The following reverse image may be used on a colored or dark background: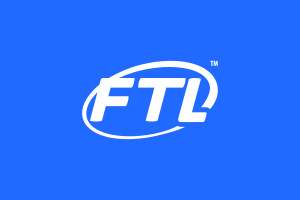 For black and white print, use the black and white logo: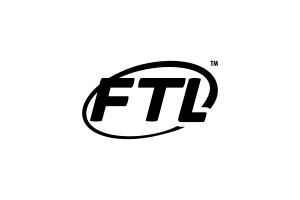 Use the following reversed image on a dark background when full-color reproduction is impossible:
The amount of free space around each side of the logo should not be less than 50% of the logo's height . This space should not contain any text, graphic elements, or visual symbols.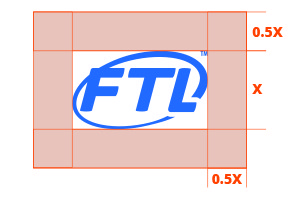 The minimum required width of printed media using the FTL logo is 15 mm. In the case of a digital page, the width should be at least 35 pixels: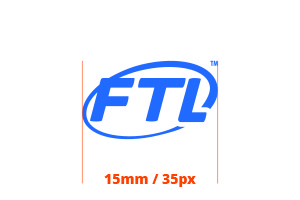 It is prohibited:
to use the FTL Logo ("Logo") unless you have explicit written permission to do so from FTL;
to place the Logo on a composite or ornamental background;
to add reflections to the Logo;
to change the shape of the Logo;
to change or alter the structure of the Logo;
to add frames to the Logo;
to fill the Logo letters with color;
to outline the Logo;
to change the color of the Logo;
to place symbols or text in the Logo or the free space around it;
to place images in the Logo.
These rules may be occasionally changed without prior notification. FTL partners shall regularly check this page for changes, and shall contact FTL representatives in order to ensure their conformance with the prevailing rules of FTL trademark use.
Links to Third-Party Websites
Links to third-party websites are given on this Website solely for the purpose of user convenience. By following any of these links you will leave this Website. FTL Company has no obligation to check third-party websites you go to from our Website, does not control them, and bears no responsibility for them or for the products, services, and content they provide. FTL offers no guarantees regarding the reliability of third-party websites, including the information, software, products, services, and materials they provide, and possible consequences of their use. FTL does not endorse these sites. When you leave our Website for other company websites, you do so at your own discretion. In addition, you are obliged to observe the confidentiality policy and terms of use of such third-party websites. These Terms do not govern the use of third-party websites.
Posting Website Links
We allow you to post links to our Website on other websites for the purposes of convenience. Unless stated otherwise in any special procedures, you are obliged to follow all applicable laws and the following conditions when posting a link to our Website anywhere:
Materials may be referred to but not copied;
You may use and reproduce the FTL logo and trademark only following the rules for their use;
It is forbidden to insert FTL Materials into external resources using frameworks;
When providing a link on a website, it is forbidden to state directly or imply that FTL Company endorses the website or the products, services or content it offers, or claim that FTL is in any way connected with the website;
It is forbidden to mislead people regarding your relations with FTL;
It is forbidden to present false or misleading information about FTL or its products and services.;
It is forbidden to post links to our Website on websites that could be considered contentious, offensive, or shocking;
Links to our Website can only be provided on websites which are suitable for all ages.
International and Export Matters
FTL Company manages the Website from its subdivisions located in Kyiv, Ukraine. FTL Company cannot guarantee that the Website is suitable for or will be available anywhere outside Ukraine, or in regions where its contents contradict local legislation or are prohibited.
If you use this Website outside Ukraine, you do so at your own discretion and bear complete responsibility for the observance of local laws.
When using FTL websites, you agree to follow all restrictions and laws on export and re-export determined by the Ministry for Development of Economy, Trade and Agriculture of Ukraine, as well as other government bodies and institutions of Ukraine or other relevant countries. You also undertake to observe current legislation, which includes not transferring or organizing the transfer of any Materials to countries under sanctions.
By using any Materials which are subject to such restrictions and regulatory acts, you assert and warrant that you are not in such a country or under its control, you are not a citizen or resident thereof, and you are not included in the cases above.
Indemnification
You agree to compensate FTL Parties for all costs incurred, as well as protect them from any claims, responsibility, losses, damages, expenses, and fees (including reasonable legal fees) that could be borne by the Parties as a result of a violation of these Terms by you or by any person using your account. FTL Company reserves the right to apply exclusive remedies and assume control of any matters which would otherwise be your responsibility. In such an event, you agree to cooperate with FTL Company for the purposes of claims protection.
Means of Electronic Communication
By visiting the Website or sending emails to FTL you are communicating with FTL Company with the help of electronic means. We may answer you by email, or publish a notification on the Website. You agree that all such electronic notifications, announcements, and other information messages from FTL are as if given in writing and meet all respective legal requirements.
Ownership
If otherwise not stated in these Terms, all Materials and their form of presentation on the Website are the sole property of © FTL Company Ltd. [dates of creation]. All rights that are not explicitly granted to any party in these Terms are reserved. Reproduction, distribution, modification, rebroadcast, and publication of copyrighted materials without explicit written permission from the copyright owner or a license is prohibited unless current legislation stipulates otherwise.
Full and Complete Understanding and Agreement Between the Parties
These Terms, along with all additional conditions you agree with by using separate sections of the Website, constitute a complete, exclusive, and final agreement between all parties regarding the matters covered in these Terms, and replace all previous agreements and arrangements between you and FTL Company. FTL Parties are third-party beneficiaries in regard to these Terms where such third parties are mentioned.
Governing Law
Regardless of your actual whereabouts, these Terms are governed by the law of Ukraine to the same extent as all other agreements drawn up, concluded, and executed by Ukrainian residents in Ukrainian territory. These Terms are not subject to the requirements of the provisions of the United Nations Convention on Contracts for the International Sale of Goods or the Uniform Computer Information Transactions Act. All legal actions resulting from the current Terms or your use of the Website shall be taken in the courts of Ukraine. For this purpose, you unambiguously accept the exclusive personal jurisdiction of such courts.
Miscellaneous
FTL's failure to exercise any right or provision of these Terms does not mean that FTL company waives such right or provision. Even if a competent jurisdiction court declares any clause of these Terms null and void, you agree that the court shall do everything possible to effectuate FTL's and your intentions described in such a clause. This being said, other clauses of the Terms shall remain in full force.
Section titles in these Terms are given for convenience only and have no legal or contractual status. The Terms will remain in full force and effect even if you discontinue using the Website for any reason. No literal interpretations in your favor or in favor of FTL shall apply to the Terms. These Terms, as well as all rights and licenses granted under them, are not subject to transfer or assignment on your part but can be transferred by FTL Company without any limitations.
FTL's Right to Change These Terms of Use
FTL Company reserves the exclusive right to occasionally introduce changes into these Terms (and also in any documents mentioned in the Terms or referred to in them) at its own discretion. Notifications about any changes shall be published on the Website. Should you have any objections to such changes, you are obliged to stop using the Website. If you continue using the Website after notification of changes has been given, this means that you accept the changes and agree to abide by their conditions and provisions. Certain provisions of these Terms may be canceled by notifications of legal nature, which state their effect directly, or by conditions published on certain pages of this Website. In this event, the notification or condition shall be considered as included in these Terms, and will replace the Terms provision(s) referred to in the notification or condition.